- SANFORD/TOWNSEND BAND REUNION -
September 24, 2007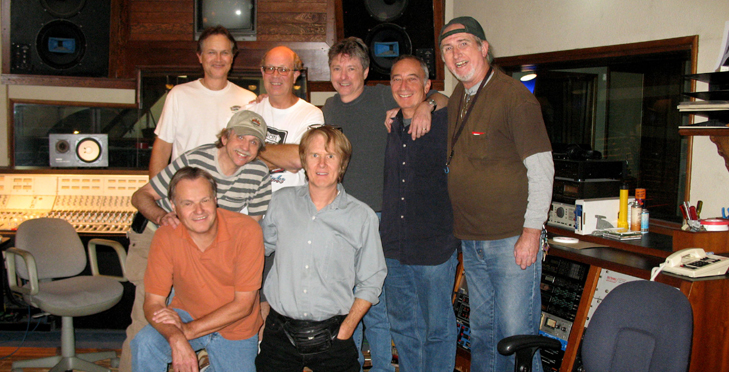 A Sanford Townsend Band reunion was something that was long overdue. We've been planning to get together since the passing of our good friend and comrade Jerry Rightmer this past spring. The event was held at Gary and Melody Denton's Stagg Street Studio in Panorama City, California. We owe Gary and Melody a great deal of thanks for helping us put this together and for making their studio available to us. Gary not only engineered the session, making things sound wonderful, but also played bass on the recordings. Excellent work on both fronts G.
I have to say " WHAT A FREAKIN' BLAST !!". We all started assembling at the studio about 10:30 AM yesterday morning (Sunday, Sept. 23rd) and setting up our equipment. The idea was to play a lot during the day, jam some and maybe record a thing or two. We actually got a couple of real nice tracks done in the middle of all the other fun. We took tons of pictures. Many of which you'll see on the gallery pages. Jerry's bass was taken out of it's case and propped up in a chair in a prominent place in the control room whereby it could best observe the proceedings.
One of the bigger get offs was the recording of two new songs during the day. One was one of the last songs Ed and I had written together prior to the demise of the band called "Good As Bad Can Be". The other song was a really cool tune written by Roger called "Fear Of The Unknown". I think the stuff came out killer and all the friends and family members in attendance really got off on the recordings. It was great to see everyone's chops were up. Hopefully we can get some mixes soon and make those available.
About mid afternoon we ordered a giant tub of bar-b-que from Hoggly Woggly's and had a feast. It's difficult to put into words what a fantastic feeling it was to have everyone there as an honorarium to Jerry, our departed friend. It was one of those days when no one wanted to leave for fear of missing out on something. Great stories were ongoing and a marvelous time was had by all.
To see some of the photos from the day, go to the Gallery II section by clicking here and scrolling down the page.